NSW Solar Rebates & Government Incentives in 2022
Published: 20 January 2022
Are you a NSW homeowner looking for solar? We've collated the solar incentives available in 2022 to help you install solar for less.
Are you a homeowner looking for solar panels? Below we've detailed the New South Wales solar incentives available in 2022.
Homeowners in New South Wales are charged an average electricity tariff of 30.65 cents/kWh, according to the Australian Energy Market Commission (AEMC) and energy bills reach up to 55 cents/kWh during peak hours. However, an expensive electricity supply makes solar even more valuable, with a higher savings opportunity.
The following government solar rebates and incentives are available in New South Wales (NSW), with more information on claiming them below:
Small-scale Technology Certificates (STCs)
Feed-in Tariff (FiT)
Empowering Homes – Solar Battery Loan Program
Solar For Low-Income Households
New South Wales (NSW) is the most populated state in Australia, so it's not surprising that they offer several government solar rebates.
This guide is designed to assist homeowners in New South Wales in applying and receiving solar rebates. It shows the step-by-step walkthrough of the process you need to follow to apply for the best government solar rebates and incentives.
Let's dive in.
1. Small-scale Technology Certificates (STCs)
When you install solar panels in New South Wales (NSW), you can get a solar rebate from the Australian government, which can cut the cost of your system by nearly a third.
With a system size of 6.6kW, you can claim approximately 109 STCs depending on your location's solar power output potential.
Australia is divided into four STC zones, each receiving a different number of STCs.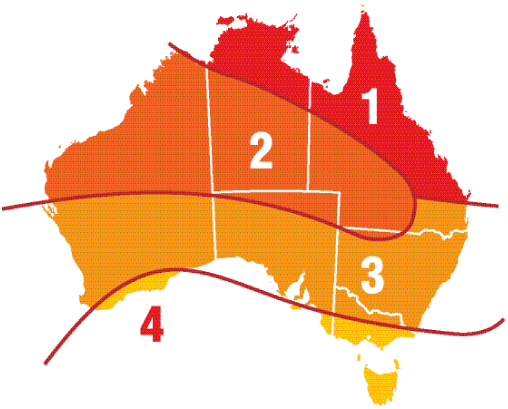 STC zones
There are four STC zones in Australia according to the amount of renewable energy they receive. A solar power system installed in a zone that receives more sun radiance is eligible for higher rebates.
Solar Rebate Phase-Out
On 1st January of every year, the amount of STCs granted to a solar panel installer decreases, resulting in a decrease in rebates. As of 2022, rooftop solar systems are granted 9 years of STCs, leading to an STC rebate phase out in 2030.

How it works
The STC rebate reduces your upfront pay for small-scale renewable energy technology.
The number of STCs you obtain is determined by your location and the size of the solar PV system you install.
But before you claim them, make sure you understand what type of solar panel system to install, which designs and components are allowed and qualified under the small-scale renewable energy target, and what solar rebate you may be eligible for.
Eligibility criteria
Small generation units of solar PV systems must meet the following criteria to be eligible for small-scale technology certificates:
The certificates should be created within a year of solar power system installation.
The solar panels and inverter should be listed on the Clean Energy Council's approved components list.
Your designer and installer should be Clean Energy Council accredited, and follow the design and installation standards.
Comply with Australian and New Zealand regulations.
Follow all local, state, territory, and federal regulations, particularly electrical safety.
Suppose the capacity of the small-generation unit exceeds the restrictions mentioned above. In that case, it will be categorised as a power station and must be accredited as such under the Large-scale Renewable Energy Target.
The system could be eligible for large-scale generation certificates if accreditation is successful.
How to claim the Australian government incentive
Although most owners choose to entrust the claiming of their small-scale technology certificates to a registered agent, you can alternatively manufacture and exchange the certificates yourself.
This procedure entails:
Determining the viability of the proposed small-scale renewable energy system
Figuring out how many small-scale technology certificates you can get for your solar battery system
Obtaining and filling out the necessary compliance documents
Creating an account in the REC Registry, which includes identity verification and a fit and appropriate person assessment.
Within 12 months of the installation date, create small-scale technology certificates in the REC Registry.
Waiting for the Clean Energy Regulator to validate the small-scale technology certifications
Find a buyer for small-scale technology certificates or put them in the queue for sale at the STC clearinghouse.
The Clean Energy Regulator cannot predict how long small-scale technology certificates will take to sell in the STC clearing house. Certificates are only sold when a buyer is found, and owners should plan their solar power system purchases accordingly.
Find out other ways to claim STCs in this guide.
2. Feed-in Tariffs (FiT)
The simplest way to define (FiT) is a compensation scheme where your electricity retailer pays a rate per kilowatt-hour (kWh) of electricity exported to the energy grid. So if your system generates more electricity than you use, you will be compensated for this excess electricity.
How it works
You can feed any excess energy your system generates into the main power grid if your solar system has no battery. Following that, your electricity supplier will give you a 'feed-in tariff,' which is a payment for the electricity that appears on your electricity bills as a credit.
The current feed-in tariff for New South Wales is 7.6 cents per kWh. The solar feed-in tariffs are also subject to timings. You get a higher rate during peak hours, which are 3 pm to 9 pm on weekdays.
Eligibility criteria
Without a solar battery, any excess electricity generated by your solar system is typically "fed" back into the main power grid for consumption by other residences.
How to claim the feed-in tariff
Electricity suppliers who advertise the best solar feed-in rates in NSW will often come with strings attached. Some retailers provide a higher feed-in tariff if you purchase a system from them, while others offer a higher rate if you transfer suppliers.
3. Empowering Homes – Solar Battery Loan Program
'Empowering Homes' is a project by the NSW government to help low-income households invest in solar batteries. You can get an interest-free loan to add a solar battery to an existing solar power system or create a whole new solar battery system if you qualify.
The solar battery program offered by the NSW government offers:
A solar panel and solar battery setup that costs $14,000 (repayable over eight years) or
$9,000 to retrofit an existing solar panel system with a solar battery system (repayable over ten years subject to terms)
How it works
Over the next ten years, 300,000 solar battery systems will be installed, thanks to the NSW government's solar incentive.
It will allow the NSW government to invest up to $3.2 billion in sustainable energy, reducing emissions and creating jobs for the general public. These solar battery systems will provide clean, renewable energy while lowering energy expenditures.
Eligibility criteria
To qualify for this program:
You must be an NSW resident with an annual total household income of no more than $180,000 annually
Live in one of the eligible postcodes
How to claim the rebate
If you qualify for this program, you can apply for the loan in the following steps:
Contact one of the Approved Vendors.
Discuss your requirements and compile several thorough bids.
Go to the Accept your quote portal. Complete the loan application by entering your quote data, reviewing, and accepting the quote.
If your loan is granted, your preferred supplier will contact you to set up an installation appointment.

4. Solar For Low-Income Households
The NSW government is testing a solar initiative for low-income homes. The initiative assists low-income families in lowering their electricity expenses by installing 3kW solar systems in their homes.
How it works
In exchange for a 3kW solar system, eligible households will have to forfeit their Low Income Household Rebate, worth $285 per year. While that is a tiny solar system, the Australian government claims to save homeowners $600 per year, more than double the refund.
Eligibility criteria
You must meet the following criteria:
You are currently receiving the low-income household rebate
Agree not to receive the Low Income Household Rebate for ten years
Possess a valid Pensioner Concession Card or Gold Card from the Department of Veterans Affairs
You are the owner of your house
If you live in one of these areas:
Central Coast
North Coast
Sydney – South
Illawarra – Shoalhaven
South Coast
How to claim the solar for low-income rebate
To get the solar system, you should apply by following the steps below:
To access the application form, you must first register for an account. You'll need to fill out your information and create a password.
Fill out the Eligibility check, Eligibility application, and Consent areas.
Send your application.
You must upload the documents below to complete your application:
Council rates notice or other proof that you own your home. If you don't have a Council rates notice, you'll need to contact the Solar for Low Income Households team to consider other kinds of evidence.
Provide a current power bill to ensure that you are eligible for the Low Income Household Rebate.
A photo of your Pensioner Concession Card or Department of Veterans' Affairs Gold Card to ensure it is current and valid.

How Much Money Does Solar Save?
In 2021, an average Australian household spent 355 dollars every three months on electricity bills. Though the amount decreased as compared to 2020, the figures may still seem pretty high to a low-income household.
An effective way to save up on net energy costs is to install solar panels. in New South Wales, a saving of $400 is possible on every kWh of solar panels.
An 8kW solar system typically saves up to $3,200 of your energy costs. plus, solar systems with batteries can entirely replace the power supply from the grid.
The Australian government's solar rebates are designed to aid further installation. you can look up the incentives and check your eligibility for each of them.
Also, various solar panel system suppliers provide services accompanied by various advantages.

Our Guides to Solar Rebates, Incentives, and More
We have a series of unique guides to solar, solar finance, batteries, and more, if you are looking to do more in-depth research into solar rebates check the below:
1. What Are Solar STCs?
In this regard, the Australian government has provided incentives under the Solar Credit Program to encourage the installation of solar power systems. STCs or Small-scale Technology Certificates are incentives provided to small-scale energy generators. The most common example is the residential facilities.
2. How To Claim STCs
You can claim small-scale technology certificates (STCs) by assigning them at the point of sale to a registered agent like a retailer or solar installer. Each STC claim is unique to an installation. However, you can make more than one STC claim if you use different addresses for each installation.
3. Full List of Australian Solar Rebates & Incentives 2022
State-Based solar incentives in Australia offer low-interest loans, interest-free loans, free solar system installation, or free battery installation. The incentives are given depending on your state location. However, you receive solar incentives only if you are eligible.
4. Australian Solar Rebates & Incentives for Businesses
There are many incentives that business owners in Australia with solar power can enjoy. Some of them include Small-scale Technology Certificates (STCs), Feed-in Tariffs, Retailer Energy Productivity Scheme (REPS), and more. These incentives promote the adoption of solar by lowering the installation costs.
Next Steps…
Interested in solar? By clicking below you can use our smart solar calculator to find out just how much you could save with solar, what rebate you are eligible for, and the impact you will have on the environment.
Don't wait until next quarter's bloated bill, and get started today!
Click here to calculate your solar savings!
Join over 20,000 homeowners who have made the switch with Nectr, or the 1000+ positive reviewers who have been more than happy with their solar install.
With the innovative solar analytics monitoring technology, regulating your solar panels is easier than ever.
Otherwise, you can always contact us on 1300 133 556, or email if you prefer at sales@instylesolar.com.au.
Interested in Solar?
Find out if you're eligible for solar and how much you could save by switching.
Start Now
Get in touch with one of our experts
Contact Us
Keep up with the latest solar news